Bonding is a technology indispensable for joining and assembling semiconductor elements. Semiconductor elements are called dies, and fixing them to packages and other substrates is called die bonding. On the other hand, joining semiconductor chip pads and external connection pads by welding gold or silver wires is called wire bonding. As is the case with solderability, control of wettability is a key factor.
Type of plating
Characteristic value
Uses
Gold alloy plating
- Gold alloy plating free of surface oxidization is performed for thermal compression bonding or ultrasonic compression bonding of electrodes of semiconductor elements and package-side connections (leads).
Electronic parts, semiconductor parts
Electroless nickel
- Electroless nickel plating is performed in places requiring welding or brazing relevant to semiconductors.
採用事例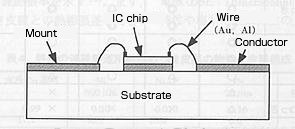 Wire bonding of electrodes of a semiconductor
element and package leads
(From "Hyomen Shori Kogaku" edited by the Surface
Finishing Society of Japan, Nikkan Kogyo Shimbun Ltd.)
Bonding is performed at a eutectic temperature of around 400°C as shown in the Au-Si binary alloy state diagram.