Copper plating is used for printed circuit boards and other electronic device components because it excels in flexibility, electrical conductivity, and thermal conductivity. Recently, by making use of its excellent leveling and uniform electrodeposition properties, it is applied to copper plating wiring, etc., and it is also playing an active part as a nano/microfabrication technology. On the other hand, the reliability of various plating technologies is enhanced as primary plating (copper strike or electroless copper plating) to unplatable materials.
Type of plating
Features
Characteristic value
Cyanide copper plating
- Tensile strength 42 – 65kg/mm2, elongation 30 – 50%
- High flexibility
- Hardness Hv100 – 160
Copper sulfate plating
- Tensile strength 25 – 33kg/mm2, elongation 22 – 39%
- Micro throughhole copper plating, micro via hole filling copper plating
- Hardness Hv51 – 80
Copper-based alloy plating
- Cu-Zn alloy plating: Chemical bonding with rubber without adhesive. (steel radial car tires)
- Strong antimicrobial action
Copper strike (cyanide copper) plating
- Primary plating for unplatable metal materials, such as magnesium (improvement of adhesion properties)
Electroless copper plating
- Primary plating for resin and ceramic materials (improvement of adhesion properties)
Adoption examples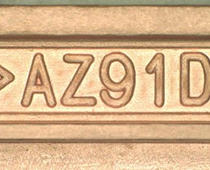 Copper plating for magnesium alloy (AZ91)
- As electromagnetic shield plating, copper primary/nickel plating on resins by [1] Electroless copper plating for electric wave prevention and [2] Electroless nickel plating for magnetic wave prevention serves as an excellent combination.
- Copper plating wiring (damascene plating) With the discovery of an additive that promotes growth at the bottom of holes preferentially and an additive that suppresses growth at the flat section outside holes, copper sulfate plating to fill wiring gutters (approx. 10μm in width) smoothly has been commercialized as copper plating wiring. This plating is perfectly functional.
[Types of plating]
[Materials & uses]