Since trace amounts of metal ions of silver and tin not only have antibacterial action but also are human-friendly, silver plating for fiber products and tin plating for tableware now play an active part. Recently, electroless nickel-titanium oxide composite plating with photocatalytic titanium oxide particles dispersed in plating films and electroless nickel-Teflon composite plating having antifouling and washability features have been developed.
Type of plating
Characteristic value
Uses
Plating film
(plating appearance)
Number of bacteria surviving after 24-hour contacta (CFU a/9cm2)
Reduction rate of bacteriab/%
- Medical, nursing, and public facilities

- Food manufacturing, biological peripheral devices

- Silver tableware

- Refrigerators, air-conditioners, and other home electrical appliances

- Socks and other fiber clothing

- Plumbing products for kitchens, bathrooms, toilets, etc., where bacteria and sliminess easily grow

- Algae inhibitors
Cu (bright)
<50
100
Ag (semigloss)
<50
100
Zn (dull)
<50
100
Cr (dull)
1.6×106
33.3
Ni (dull)
2.5×105
89.6
Ni (semigloss)
2.3×104
99.0
Ni (bright)
<50
100
Ni-9P alloy (bright)
<50
100
Co (dull)
<50
100
Sn (bright)
1.1×106
54.2
Ni-P-PTEE (bright)
<50
100
Number of initial bacteria: 2.4×106 (CFU/9cm2)
a CFU: Colony Forming Unit
b Reduction rate of bacteria/% = (A-B) / A × 100
A … Number of initial bacteria
B … Number of bacteria surviving after 24-hour contact
採用事例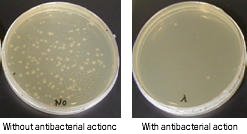 Escherichia coli culture examination
(zinc plating)
Stainless steel, plastics (resins and various fibers), and ceramic materials do not come with antibacterial action. The abovementioned plating on these materials is effective.
[めっきの種類]