For electronic parts, surface treatment using noble metals is in heavy usage in order to increase reliability, but recently, noble metals pose problems from aspects of cost and supply. Therefore, we have developed unprecedentedly new monocrystal tin plating as a replacement for gold plating frequently used on electronic parts.
Features of monocrystal tin plating
- Tin plating with a completely new structure can be obtained by reflow setup.
- With excellent insertion property, the insertion force can be reduced by 30% to 50% in comparison to general tin plating.
- Tin crystals are preferentially oriented in a specific direction.
- A high ability to suppress whiskers is available.
- Good solderability is available.
- Environmental resistance is excellent.
- Rack and hoop plating can be applied.
Uses
- Joining (soldering) of electronic devices
- Replacement for gold plating on electrical contact parts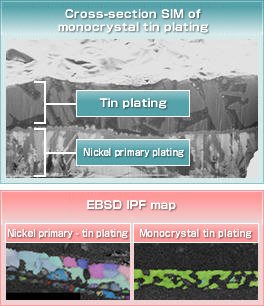 Comparison between flash gold plating and monocrystal tin plating

Type/function

Flash gold

Monocrystal tin plating

Whisker resistance

⊚ Excellent

⊚ Excellent

Solderability

⊚ Excellent

⊚ Excellent

Corrosion resistance

○ Good

⊚ Excellent

Cost performance

× Low

○ Good

[Types of plating]


[Materials & uses]