When the chromium content in steel exceeds 12%, the corrosion resistance improves dramatically. From this, iron-chromium alloys containing 12% or more chromium is called stainless steel. The corrosion resistance of this stainless steel originates in the ultrathin chromium oxide film (passive film) formed on the most superficial layer. From the perspective of the adhesion property of plating, how to remove this passive film is a factor.
Classification
Main ingredient
Metallographic structure
(crystalline structure)
Magnetism
Uses
Cr-based stainless steel
13%Cr (SUS410-based)
Martensite (body-centered cubic structure)
Strongly magnetic
All sorts of industries
14%Cr (SUS430-based)
Ferrite (body-centered cubic structure)
Strongly magnetic
Cr-Ni-based stainless steel
25%Cr (SUS329-based)
Austenite/ferrite
Magnetic
18%Cr-8%Ni (SUS304-based)
Austenite (face-centered cubic structure)
Non-magnetic
- Others: Austenite/ferrite-based (SUS329-based): High resistance to chlorine.
Precipitation hardened (SUS630-based): High strength.
- Note: Even if stainless steel is non-magnetic, only the superficial layer is magnetized when subjected to strong cold working.
採用事例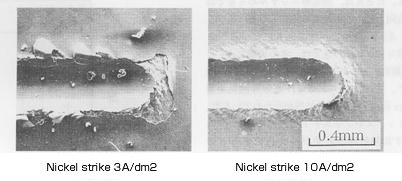 Appearance of electroless nickel plating on stainless steel after adhesion test