Nickel-tungsten alloy plating, having excellent resistance properties against strong acids, halogen attacks, adhesion at high temperatures, heat, wear, and so on, is now being used as a replacement for chromium plating.
Type of plating
Features (characteristic value)
Nickel-tungsten alloy plating
- 20wt% or more tungsten content
Resisting high concentrations of hydrochloric acid, sulfuric acid, hydrofluoric acid, and nitric acid.

- 44wt% tungsten alloy plating
As-plated: Hv600
Heat-treated (700°C): Hv1350
Excels in thermal resistance.

- Thermal resistance: Hv950 maintained at a high temperature of 600°C
Utilized for glass molds subject to continuous use at approximately 600°C.
Adoption examples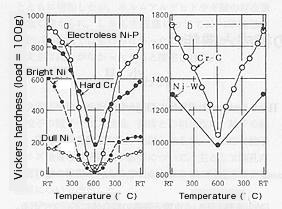 Hot hardness of nickel-tungsten alloy plating
[Types of plating]


[Materials & uses]