There are hard plating and soft plating. Also, even on the same plating, the hardness can be changed by changing the plating conditions and heat treatment conditions. For improvement of wear resistance, hard films are generally effective.
Type of plating
Characteristic value
Uses
Hard plating
- Hard chromium plating Hv800 - 900

- Nickel - (8 – 10%) phosphorus plating

Hv450 – 550
Hv800 – 1000 (heat-treated at 400°C)

- Electro nickel plating
Dull Hv100 – 250
Bright Hv300 – 350

- Nickel-cobalt alloy plating
Hv300 – 600
- Ni-P-SiC composite plating
- Rhodium plating, ruthenium plating
Cylinders, rolls, various molds,
gauges, bearings, hydraulic pumps,
robots parts, thread feeder roll
guides, etc.
Soft plating
- Tin-based Hv3 - 60

- Indium-based; softer than tin

- Copper plating Hv40 - 85

- Silver plating Hv55 - 90

- Gold plating Hv20 - 80


Bearings, piston rings, shafts, etc.
採用事例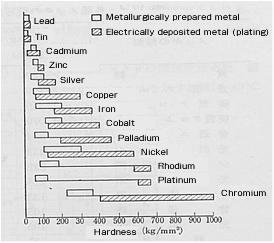 Hardness comparison between plating films
and metallurgically prepared metals
(From "Kuromu Mekki"; Matsuhei Kishi,
Nikkan Kogyo Shimbun Ltd.)
- The hardness of a material is defined as the magnitude of resistance indicated by the material against which another substance is pressed. The physical significance of hardness is said to be uncertain as the value varies depending on the quality, shape, size, and deformation rate of the material pressed.
- Relationship between hardness and wear resistance
Generally, people think that the resistance to abrasion is increased by higher hardness, but we experience less abrasion with increasing softness in practice. This is considered to be because softness develops a new function called lubricity.
[めっきの種類]