Electroless nickel-phosphorus plating can give conductivity not only to conductive materials, such as metals and carbon-based materials, but also to plastics (resins), ceramics, paper, fibers, and most other non-conductive materials. Since it is not electroplating, plating thickness is uniform for all parts, including inner faces and micropores, irrespective of product shape. Dimensional accuracy is particularly excellent. It is used for ceramic devices, ceramic capacitors, and many other electronic parts (electrode formation).
Type of plating
Features
Characteristic value
Ni-P content – 5%
(low phosphorus)
- Improvement of adhesion properties (ITO substrates, polyimides, glasses)
- Alkali resistance
- Hardness (as-plated Hv = 700, heat-treated Hv = 800 – 900)
- Chemical-resistant parts
Pb-free
Ni-P content 5 – 10%
(medium phosphorus)
- Excellent corrosion resistance
- Hardness (as-plated Hv = 500, heat-treated Hv = 800 – 1000)
- High versatility, covering iron-based shafts and pistons, plastic parts (giving conductivity), contacts, substrates, etc.
Pb-free
Ni-P content 10% –
(high phosphorus)
- Acid-resistant
- Non-magnetic (after heat treatment)
- Primary plating of hard disk substrates, chip resistors
Pb-free
Adoption examples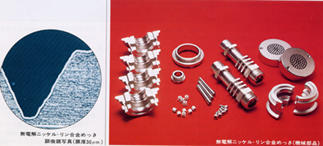 Electroless Ni-P plating
(From "Denki Mekki Gaido" edited by Federation of
Electro Plating Industry Association, Japan)
- Conventionally, electroless nickel-phosphorus plating baths contained lead to prevent liquid dispersal, but due to the lead ban according to an RoHS Directive, electroless plating is lead-free at present.
- The crystal structure and features greatly change depending on the phosphorus content (around 5 – 10%) and heat treatment temperature (200°C). Also, the as-plated (high phosphorus) crystal condition is amorphous. The corrosion resistance and chemical resistance of plating films are excellent.
- Heat treatment changes the plating structure from amorphous to crystalline, and the hardness and wear resistance become comparable to hard chromium plating. It is used for precision machine parts, precision molds, shafts, and so on.
[Types of plating]
[Materials & uses]