Wear means that materials are consumed from their surfaces by mechanical actions, such as friction and grinding, and plating to prevent this wear is called wear-resistant plating. There are two methods of improving the wear resistance: increasing the surface hardness and decreasing the friction coefficient.
Type of plating/th>
Characteristic value
Uses
Industrial chromium plating
- Hv 800 - 1000
Bearings of machine parts, crankshafts, piston rods, rolls, molds, inspection tools (block gauges)
Microporous chromium plating
- Seizing-up is prevented by using pores for oil retention.
Cylinders of internal combustion engines
Teflon-impregnated chromium plating (TEFLOK)
- Non-adhesiveness and low friction coefficient
Various rolls, molds
Electroless nickel-phosphorus (5 – 10%P)
- Hv800 – 1000 (heat-treated)
Hv500 (not heat-treated)

- Electroless plating is suitable for precision machine parts because the plating thickness is uniform in all parts irrespective of product shape.
Automobiles, aircraft, copiers, etc.
Hard noble metal plating
- Noble metal plating with high hardness includes rhodium plating, platinum plating, and ruthenium plating.
Electrical contacts, sliding parts
採用事例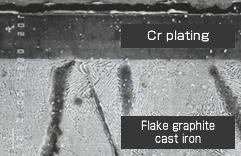 Cross-section SEM photo of hard chromium plating
on flake graphite cast iron
Wear is greatly affected by the combination of materials, and on the same type of materials, the combination of different types of materials should be devised as the amount of wear may increase.
[めっきの種類]