Rhodium plating, which would be used for jewelry of noble metals, has recently been used for contacts of electronic parts and switch members because it offers excellent corrosion resistance, high hardness, and low contact resistance.
Type of plating
Features (characteristic value)
Rhodium (Rh) plating
- For decorative use: Hv550 – 640
Preventing discoloration of silver plating.

- The corrosion resistance and oxidation resistance of rhodium are as good as it is insoluble in aqua regia (nitric acid:hydrochloric acid = 1:3).

- For industrial use: Hv800 – 1000
Utilized for contacts and switch members as the low contact resistance is small.
Adoption examples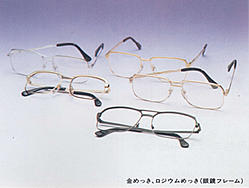 (From "Denki Mekki Gaido" edited by Federation
of Electro Plating Industry Association, Japan)
[Types of plating]


[Materials & uses]